Discover more from The Joy Menu
what the hell is "creativity" anyway?
The Joy Menu #4: News
Your intrepid author tries something different, and admits that he has no idea what he's actually doing. But with style (he hopes).
Hi, Friends.
Today I'm going to change things up a bit. And why not? I invented this thing; I can make it whatever it is.
Consider this the first in a series (of one?): Letters to Myself.
Reply with thoughts; I'll be waiting.
—Joey
---
Letter to Myself
Long before I started writing this newsletter ("neither news nor letter"—Me), I was a reader: a reader of the news, of books, of blogs, of Instagram captions, of everything. For ages, reading was both my main professional skill and my favorite activity. But a few years ago, I grew fatigued with the sheer amount of text I was encountering, and trying to process, on a daily basis. For me, the ideal form of textual presentation was always the Book. Maybe because a book requires full concentration, and offers only itself—simply text, and nothing else. You're either reading the book or you're not. It either makes sense or it doesn't. And when you're done, you're done (you can start over, sure, but then you're re-reading. That's another thing.)
Online, text takes on another dimension: the link. The portal. The connection. The pitch. Part of the reason I decided to write this newsletter—simple, direct, short—is because 1) I grew tired of asking permission to write ("Hi, editor, will you publish me? I swear my piece will attract ad dollars") and 2) I got tired of begging to be read ("click on my blog! Visit my site! My a writing awaits you pls don't make it cry!"). An email can be something else: it can be intimate; asking for nothing other than to be read.
I don't struggle with putting words down on the page (and often even manage to put them in a nice order). I do struggle when it comes to selling myself, my work, my words — as something you need to engage with ("it'll make your life better! You'll never have to tie your shoes again!). Look I get it: there's a lot of information out there. If we don't make some noise for what we're creating, it'll likely get buried in the muck.
But for me, the idea of posting, sharing, slinging, selling…it runs counter to the joy I find in the most important (non-human) engagement of my life: the quiet, silent, connection between the self and the page; the nourishing, and curiously potent relationship between the written word and my humble imagination.
Books are quiet. And the world right now is very very loud. Maybe e-mails can be quiet, too.
A week ago, I decided to orient myself more toward "sharing" The Joy Menu via its own Instagram page. I thought I'd set a calendar and begin to create content—visual content! shareable content!—to compliment what I'm writing here ("neither news nor letter"—but maybe a meme or two?). I thought it would feel good to re-imagine my verbal ideas as imagistic social content, that I'd feel a thrill of connection when the project was shared, and spread, and the activity brought in more subscribers—and thus more readers—here, to this.
But ultimately, the idea exhausted me before I'd hardly started. The truth is, this is the engagement that energizes me. Thinking through words; conceiving and articulating ideas as I write them down—diligently, perhaps pedantically—and then sharing them with people who care.
Perhaps I'll try again next week. Perhaps I'll be energized by the potential for connection, or by the ego-rush of sharing. But I'd like to think that this—these unvarnished thoughts about the challenges and joys (it's in the name, folks) of creating, of making, of doing things that aren't work, of making things that aren't necessary—that this will serve its purpose for those who desire that purpose served.
As the meme goes: "I don't know who needs to hear this but…"—literally, I don't know if anyone does. But my creative mantra is: if I feel called to make it, then someone must feel called to read it.
If for some unseen and unknown reason, I feel such a strong conviction to write (or paint, or draw, or sing; though, maybe less that last one), then I'll have to trust that there are other people who will find meaning in it. Maybe they need to hear it. Maybe they'll enjoy reading it. Maybe they won't care now but months or years from now it'll facilitate a "click."
That keeps me going. I hope it gets you going too—and keeps you reading.
And if you really feel compelled, you can share this, too. Maybe you know someone who "needs to hear this but."
---
Joy Knows No Algorithm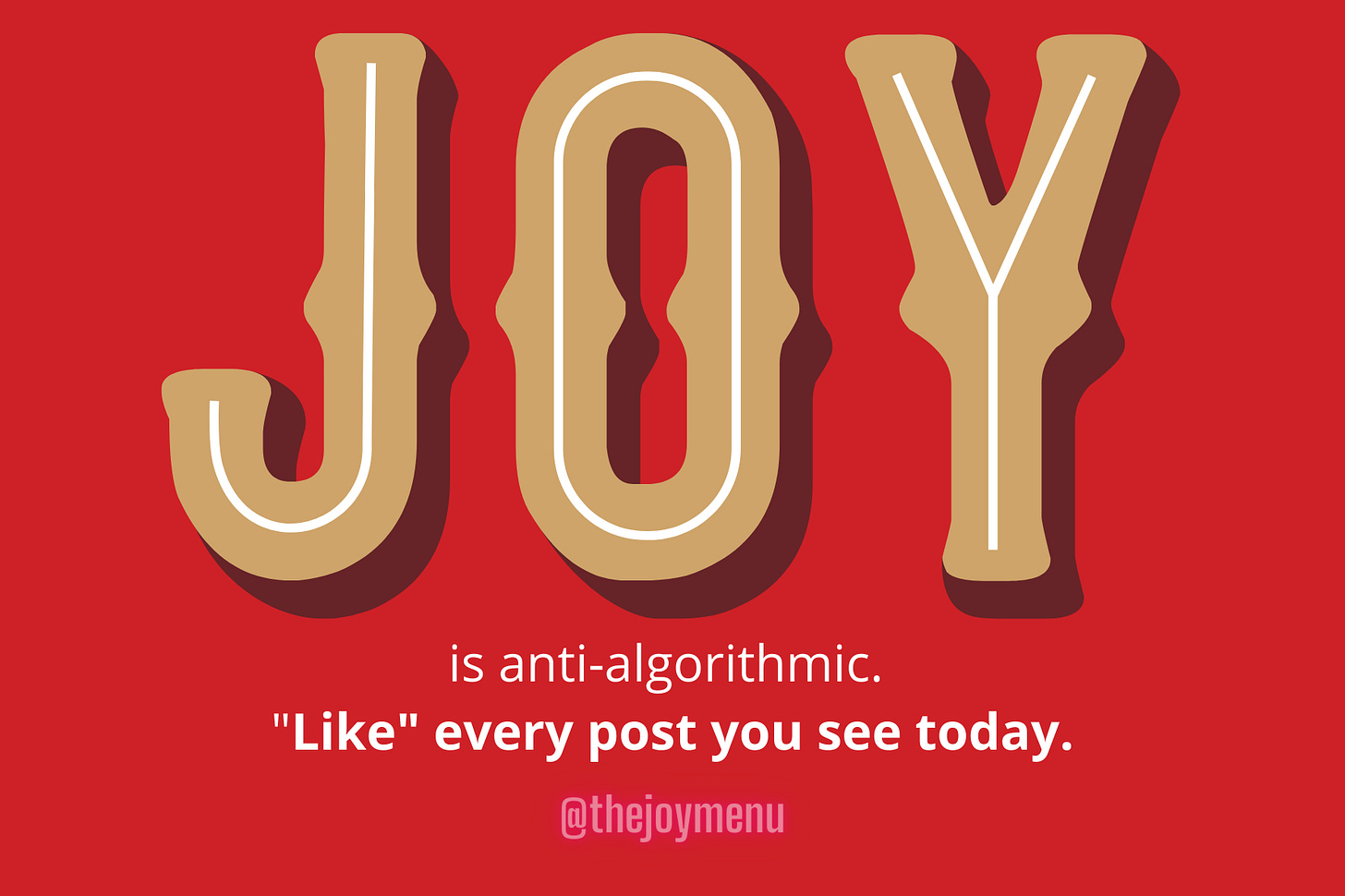 ---
Until next week, 
— J.
Questions? Comments? Commissions? Puppies? Respond directly to this email.